Offering the widest and purest handcrafted planks since 1998
Want an authentic-looking floor that celebrates the beauty of nature? Wider and longer length oak planks are the perfect solution. Handcrafted oak floors exude warmth and charm, making any room look spacious.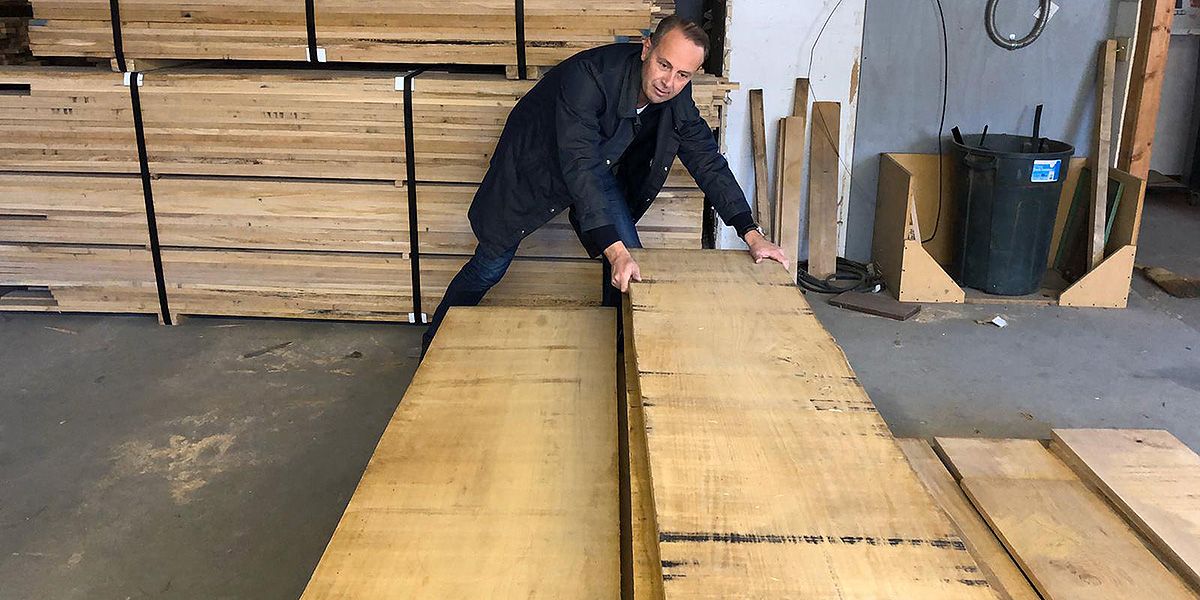 Bastiaan Smits, Joint-Managing Director. Inspecting American White Oak in a pure Select Grade up to 50 cm wide and 4 m long.
Extra long and extra wide planks, selected from the finest parts of old-growth trees
Our wood selection comes from the handpicked lower section of larger, old-growth oak trees. Only these trees, which are often more than 150 years old, have the beautifully uniform growth structure that enable us to craft pure XL wide plank sizes that are consistent in stability and radiate the purest natural beauty. That means they are more stable, denser, wider and longer than the more standardly available planks cut from random parts of the tree.
Wide plank oak floors add value to your space
The greater dimensions of wide oak planks ensure that you will see fewer seams and joints between individual boards. This guarantees that you can enjoy the full sensation of the long grain of the wood, whether you choose our engineered oak wide plank flooring or our solid oak wide plank flooring.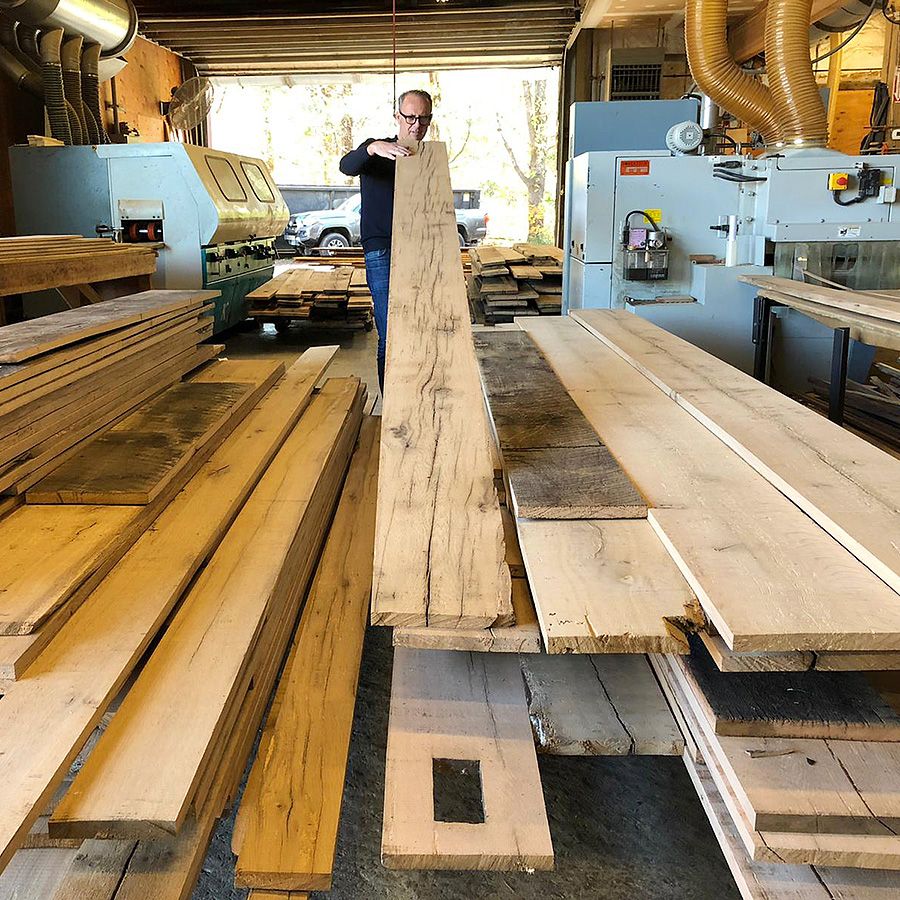 Oak used in Barns in the 18th Century was up to 200 years old and grew in original old growth dark and dense forests before the colonization by Europeans started. The old growth Oak grew much slower and has a very fine grain structure
Antique American White Oak XL planks
It's hard to beat a reclaimed wood floor when it comes to creating an authentic, original atmosphere. Often called antique wood flooring, and made from wider and longer old beams, these handcrafted antique wide plank floors convey warmth and charm. Each reclaimed board tells a story of the past, with its nail-holes, wormholes, cracks and patina – the result of over a century of use in old farms, watermills or workshops. We craft the reclaimed wood, with its beautifully uniform growth structure, into XL wide plank sizes that are consistent in stability and natural beauty. We have crafted reclaimed planks up to 35 cm (14 inches) wide.
Oak planks 10m in length or up to 50cm in width
Since Ebony and Co makes exclusively custom wood products, we can offer a huge variety of species, finishes and patterns, always with our favourite option of making those extra-long lengths or extra-wide boards. Imagine what you could do with oak planks 10 m (33 feet) in length, or up 50 cm (24 inches) in width.
These selections of Oak are the true "black caviar" in the world of wood flooring. Rare, slow, and second to none!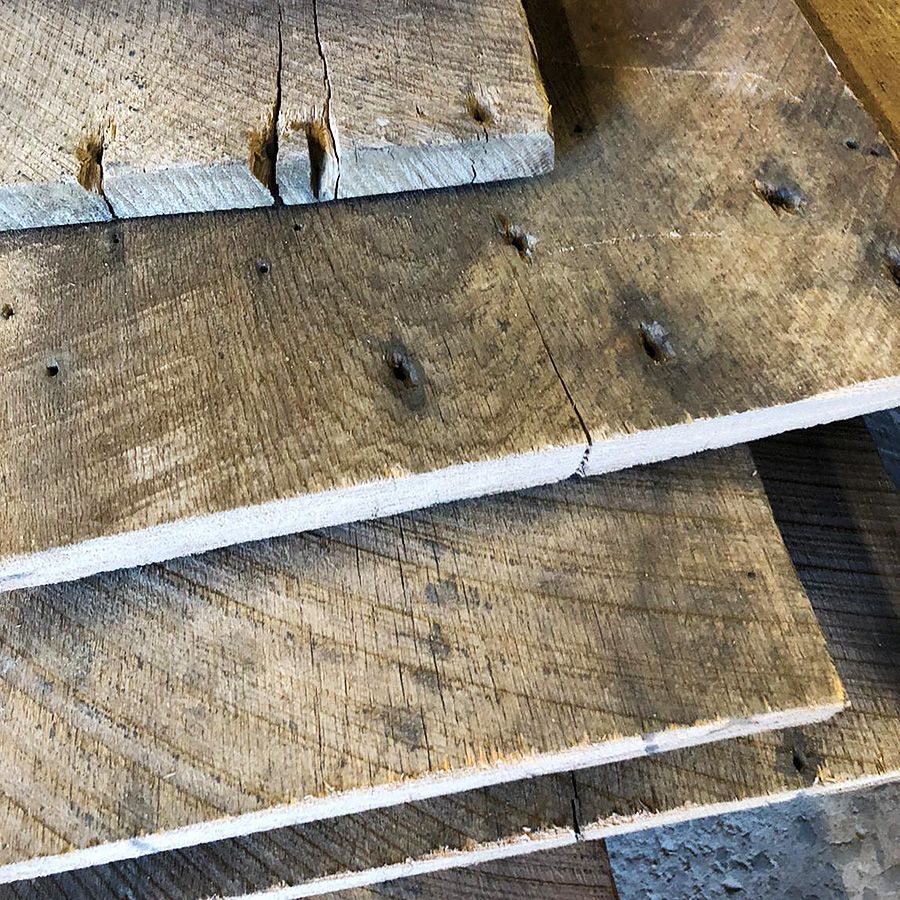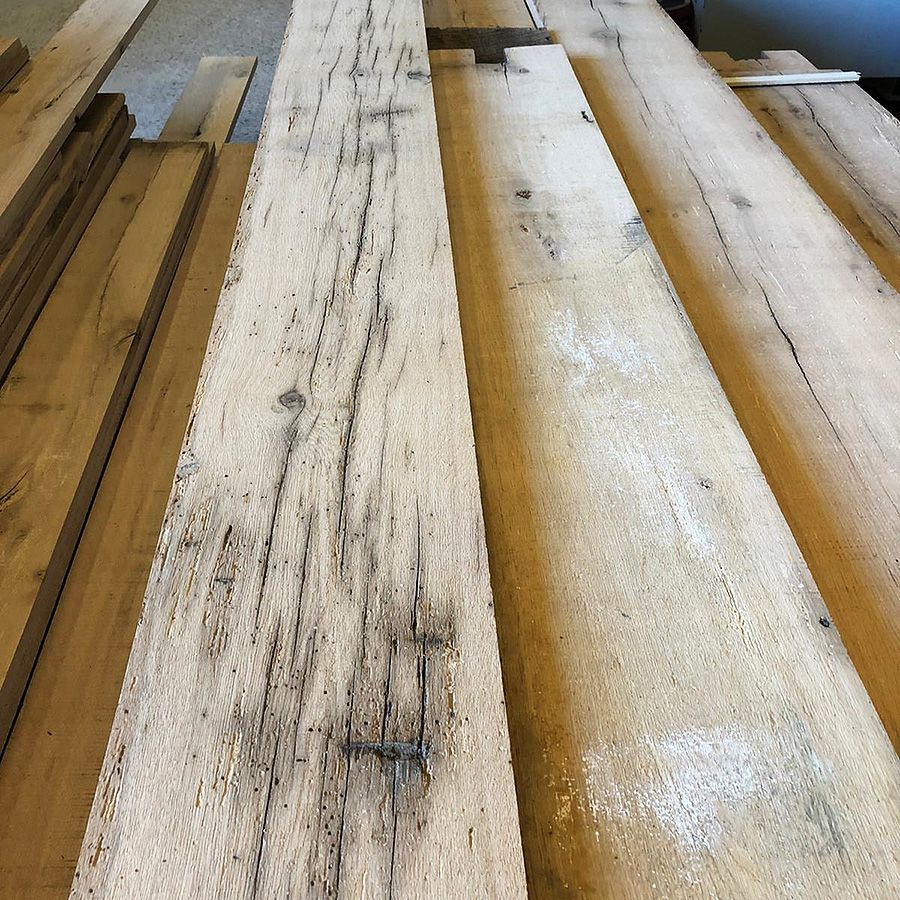 Antique American White Oak cut from old Barn beams. Showing all features of time. Worm and beetle holes, nail holes, cracks, patina and knots.
Solid American Oak planks in clear grade
This house may well have widest solid American Oak planks in this refined selection. Trees of this high grade aren't available much, and the owner allowed more than a year to do the best possible pick. What makes this floor even more special is the high grade of material used, with barely any knots, sap or character and that for a volume exceeding 1,000 m2.
< American White Oak Select Faded Ultramatt Poly