In Person: Roland Boutin
We revisited BRUNEBLONDE in Hong Kong where co-founder Roland Boutin talked about how Paris inspired him to create the upscale hair salon in the Far East. The Parisian touch is reflected in everything from the available techniques and services offered to the Chevron patterned flooring, says the Frenchman.
Tell us something about BRUNEBLONDE.
Founded by David Gouygou, and myself ,the salon is the epitome of Parisian chic. We are located in the Grand Hyatt hotel. Bruneblonde delivers sharp cuts, exceptional colour and healthy haircare to all clientele.

Before moving to Hong Kong, both David and I worked at top salons in Paris, where we started our foundations of providing impeccable service to cosmopolitan clientele. We've also translated our expertise into creating BRUNEBLONDE'S very own luxury, natural hair care range.
What makes you unique?
Impeccable guest experience: every detail of your visit is given care and attention. How you are welcomed in the space, to the state-of-the-art equipment we use, the luxurious linens and high levels of hygiene throughout your treatment.
How much of Paris can be found in the Hong Kong venue?
A lot! From our service menu, with Parisian inspired services and techniques such as Parisian Blonde and Balayage, to the interior design of the space — which evokes the feeling of stepping into a Parisian apartment. I think it's fair to say that our salon brings parts of our Parisian roots into the heart of cosmopolitan Hong Kong.
The Chevron wooden floor oozes Paris. A conscious choice?
Yes absolutely. It was important that the flooring would compliment the rest of the design created by Greg Pearce of One Space and enhance our vision and mission.
What do clients say about the interior?
We have received compliments that the floor makes the salon feel cozy and warm. It's fantastic to have this beautiful environment to provide our services whilst making people feel they're at home.
www.bruneblonde.com
 Mezz Floor, Grand Hyatt Hong Kong 1 Harbour Road, Wan Chai, Hong Kong.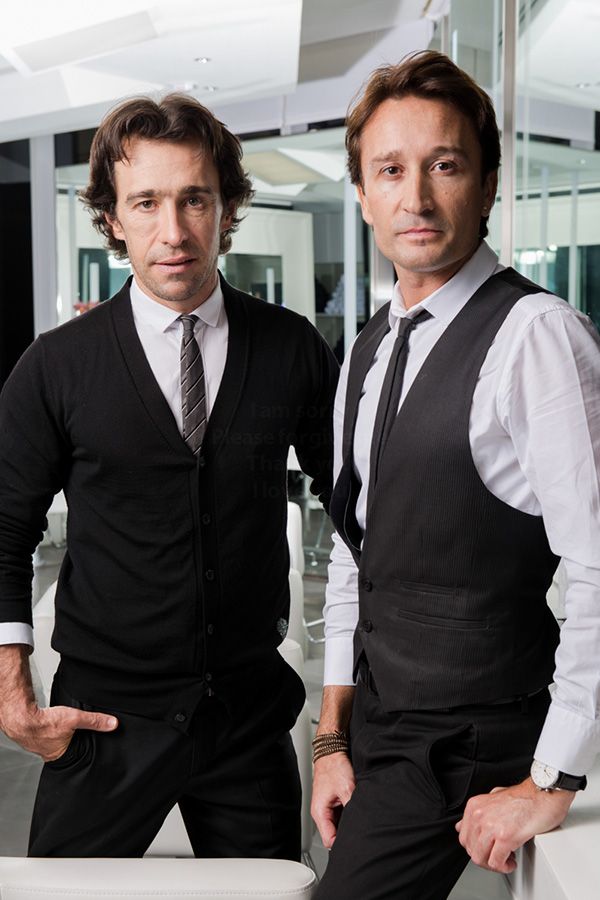 Roland Boutin and David Gouygou founders of BRUNEBLONDE hair salon in Hong Kong. (photo: © Whiteshade, Hong Kong)