In Person: Tatiana Fokina of Studio Caché
Founder of London-based interior design studio and CEO of Hedonism Drinks Ltd and Evgeny Chichvarkin, owner of the sensational Hide restaurant and Hedonism Wines share their passion for life, details and wood.
Tatiana Fokina and Evgeny Chichvarkin - Photo by Simon DawsonBloomberg via Getty Images
Tatiana, both your private and professional lives seem to be wired around a passion for wood.
(Tatiana) With Studio Caché, I try to create interiors that ooze warmth and intimacy, are convenient to spend time in, and reflect a client's character. I like interiors that feel calm yet are filled with beautiful details. Wood reflects those qualities and makes a perfect companion to add elements to, such as photos, prints, textiles, artefacts and beautiful accessories that bear a certain importance to that person. Our own home is a good example of that. We run a Michelin-star restaurant with a stunning Oak staircase and London's renowned wine shop Hedonism, which has this amazing wide plank Country Vintage Oak floor, that almost looks like Antique
Could you sum up Studio Caché forte in a few words?
(T) Natural, timeless, client-focused, warm. I believe in warm interiors; spaces that are comforting and soothing. Wooden floors fully support that.
Antique wooden floors in particular seem to hold a special place in your heart.
(T) Both me and my partner Evgeny love the character of antique wide plank floors. Antique wooden floors are truly alive, they picture life stories of the past. It's an eternal material that transcends time. I fully embrace every imperfection.
(Evgeny) Antique wood is a joy for the senses, it's super tactile and I love the smell and heritage feel of it. Each piece is truly unique.
(T) The unpredictability of the track record of a wooden floor fascinates me. It could have been a floor in a French palace two decades ago, and now be part of the interior of some trendy bar in London.
Can wood also be challenging material to work with?
(T) One of our recent projects is a wooden house in Latvia where we opted for antique Ebony floors and lots of reclaimed wooden elements. Basically, the whole house is 'alive' which means that it also responds to the extreme weather conditions. In winter, temperatures drop drastically, which makes the wooden elements contract, while in summer it expands. To me, the cracks and imperfections make it only more unique and merely add character. I feel it's actually part of the charm of working with a so-called imperfect material.
Can you each recall an early memory that's related to wood?
(T) As most Russian kids, I used to spend summers in the countryside with my grandma. All the houses in the village were constructed out of wood, yet each structure was different and reflected the personality of the owner. I remember that I loved observing these houses as a child.
In our flat we had a wooden parquet. I recall playing on the floor, I really liked the smoothness of it, it was always warm. When I was about five years old, my parents took me on a trip to see the outstanding wooden architecture at the island Kizhi. I was hugely impressed by the fact that the buildings were erected without using a single nail. (E) I can still recall the deep smell of an antique cupboard we used to have, and the scent of freshly cut wood at our summer house. Smell is a very powerful tool to make a lasting impact.
Evgeny, as a wine expert, could you see a relation between your passion for the antique woods and beautiful aged wine?
A big part of the beauty and complexity of really good, aged wine is the process, a chemistry that takes place in wooden barrels. The time spend with wood lends it its unique qualities and helps it age. Both antique wood and aged wine are influences by time, and both are timeless.
We are living in an explicitly designed world. Is it hard work to safeguard this sense of natural charm and inviting nonchalance?
(T) Our designs are not related to any trend or fashion. In my opinion, interiors need to last, and age gracefully. People have created so many beautiful objects over centuries that deserve a second, or maybe even sixth life. In that respect, I always try to link past, present and future in one space.
Is that different for residential and public spaces like restaurants or shops?
(T) I think one of the main traits of Studio Caché projects is that we treat all spaces the same: they need to be warm, convenient, reflect the client, calm, but filled with beautiful details.
You both come across as very passionate people. What fuels your curiosity?
(T) I can find inspiration in everything: people, art, traveling, architecture, books. I wish there was more time in a day to see and do more.
(E) I thrive on ideas, and people who are good at what they do.
Are you ever disagreeing about a design choice?
(E) Hardly ever. I was very opposed to using concrete at Hide (his buzzing, multi-floor dining extravaganza on London's Piccadilly with an impressive vast, oak spiralling staircase connecting 'Above', the restaurant area, and 'Below', the basement bar). In the end, we agreed on using plaster with a concrete finish. I fully trust Tatiana's taste.
Your London home is packed with details.
(T) Studio Caché 's slogan is beauty in detail. Often, we tend to forget the whole space, and just recall a charming detail we stumbled upon. In our house, details embody memories of places and people.
(E) I believe that we express ourselves through details. During life, you accumulate small elements that impacted you on your journey. Exposing these details, and accommodating them as part of your home, makes a space not only come alive but more so, of value to you.
Could you ever see yourselves live in a minimalistic, Nordic space?
(T) To me, Lapsas Ala, our Jurmala holiday residence in Latvia, is a rather minimalist environment, and certainly a very Nordic space. Without things becoming overly cold and stark.
To me, the cracks and imperfections make wood only more unique and merely add character.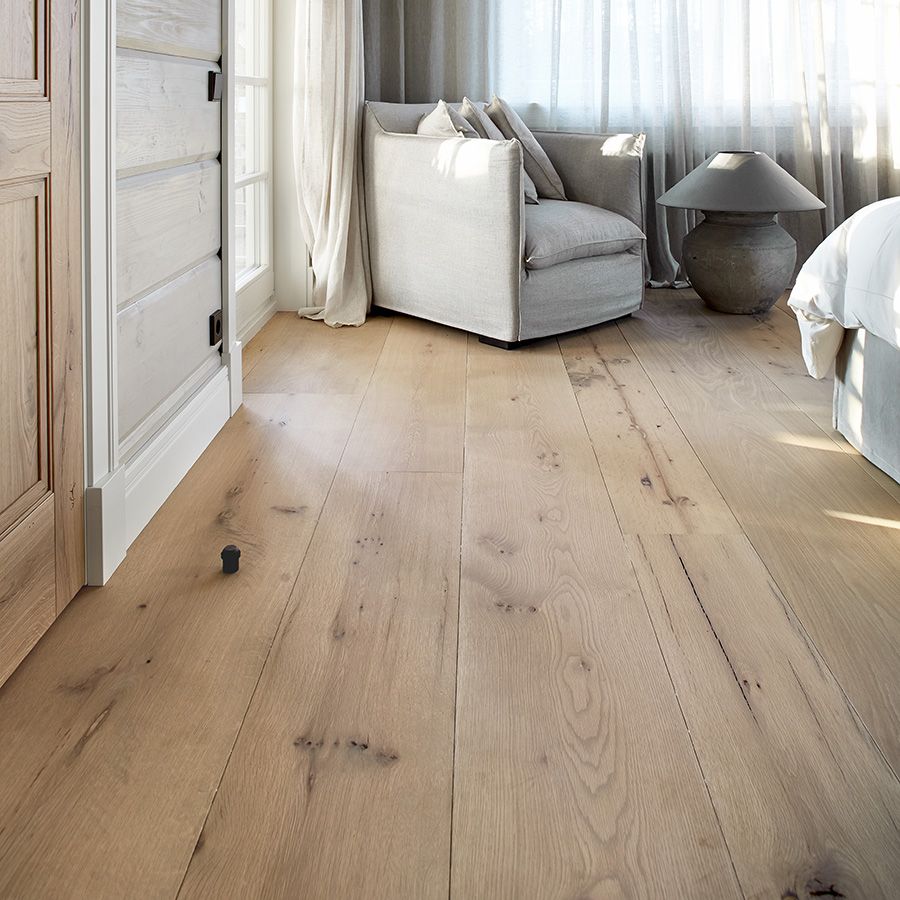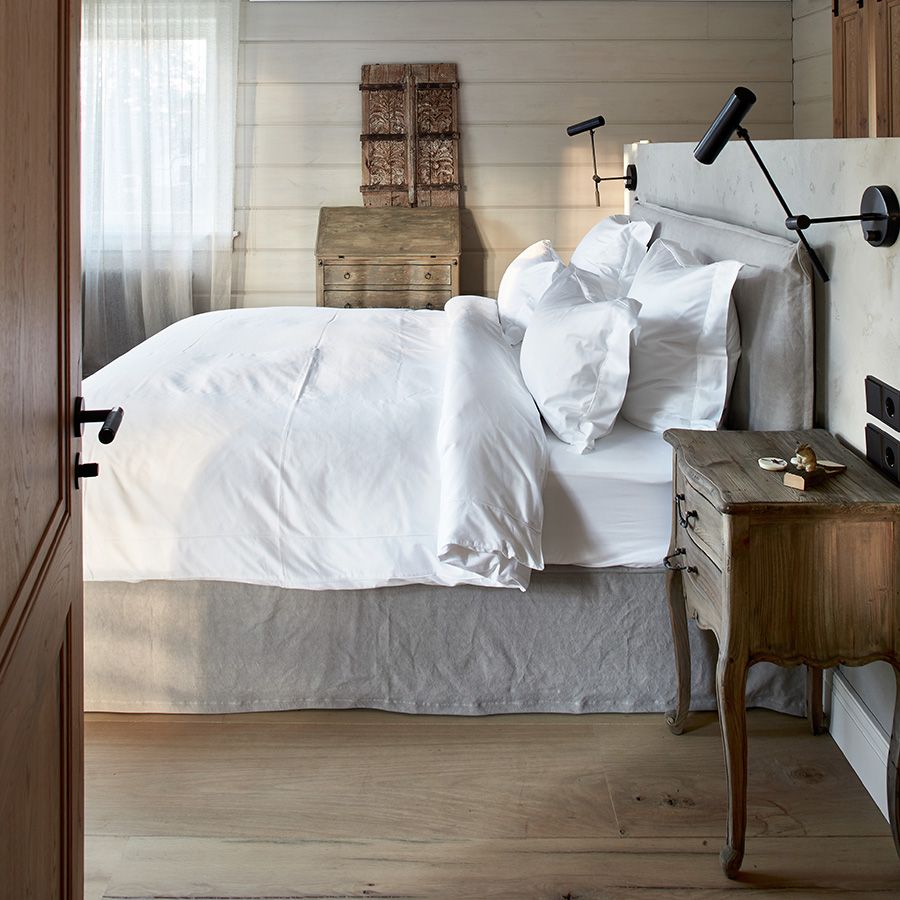 Lapsas Ala, a holiday residence in Latvia by Studio Caché - Photo's by Madara Gritane.