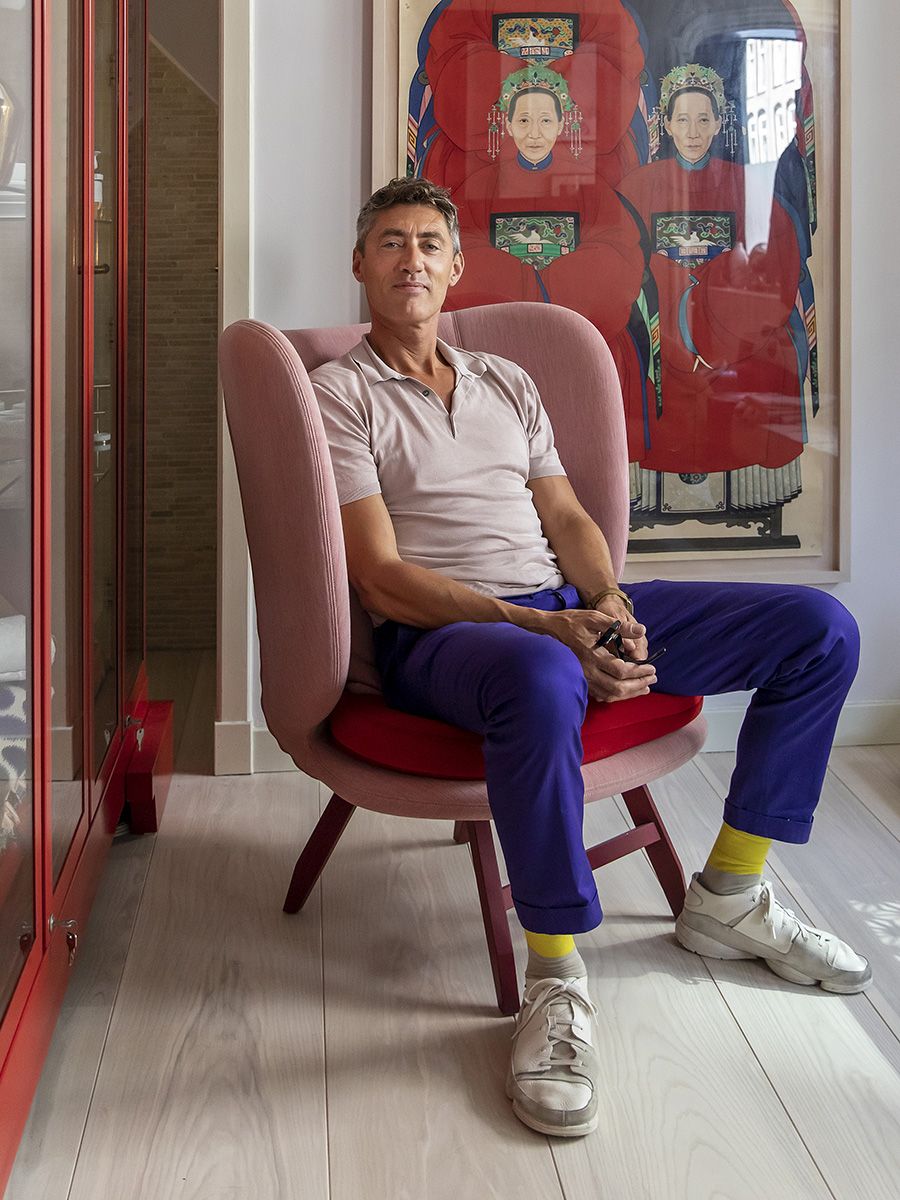 Edward van Vliet on his Continental Ash flooring "Iceberg Faded Hardwax" in Random Widths.
In Person:
Edward van Vliet
---
'A house filled with treasures'
---
Acclaimed designer Edward van Vliet invited us inside his exuberantly decorated home in central Amsterdam. It proved to be an uplifting kaleidoscopic experience of geometrical patterns, colourful layers, elements of nature, art, exotic culture and crafts.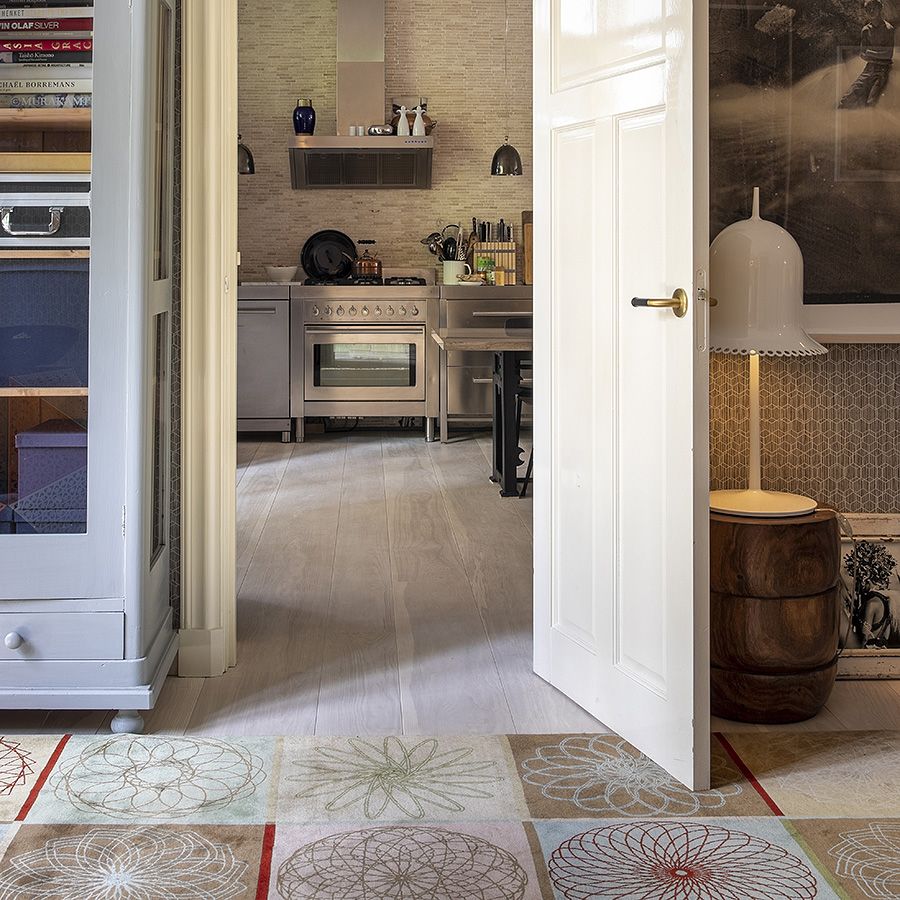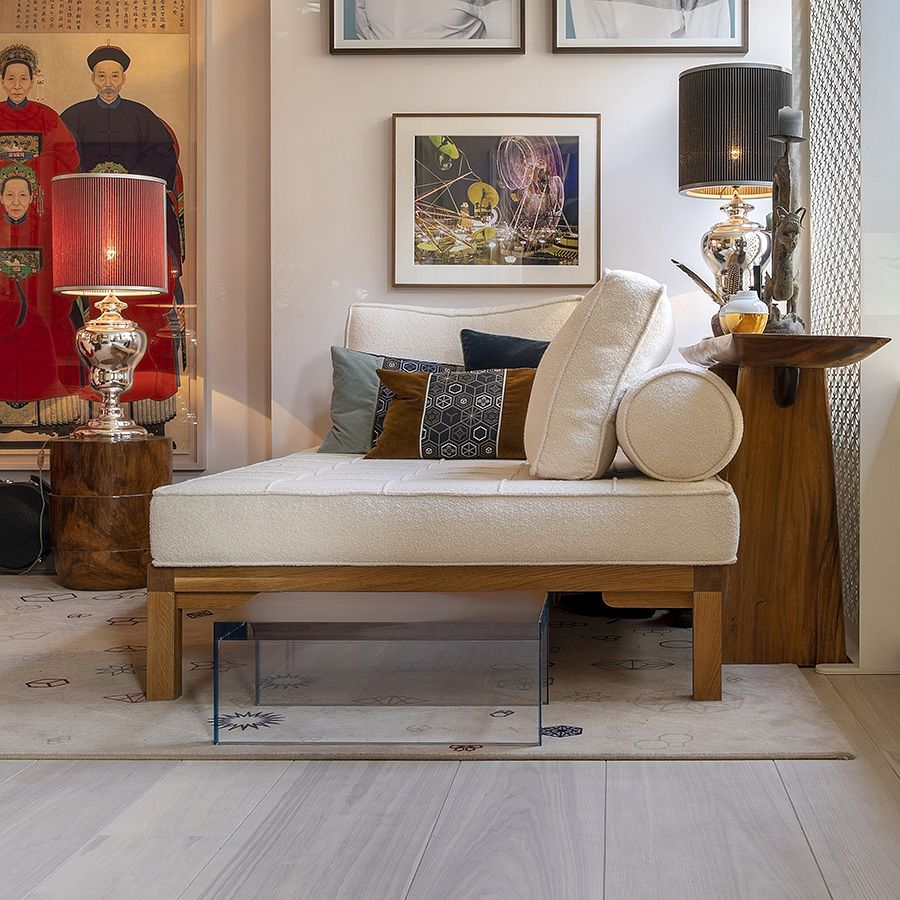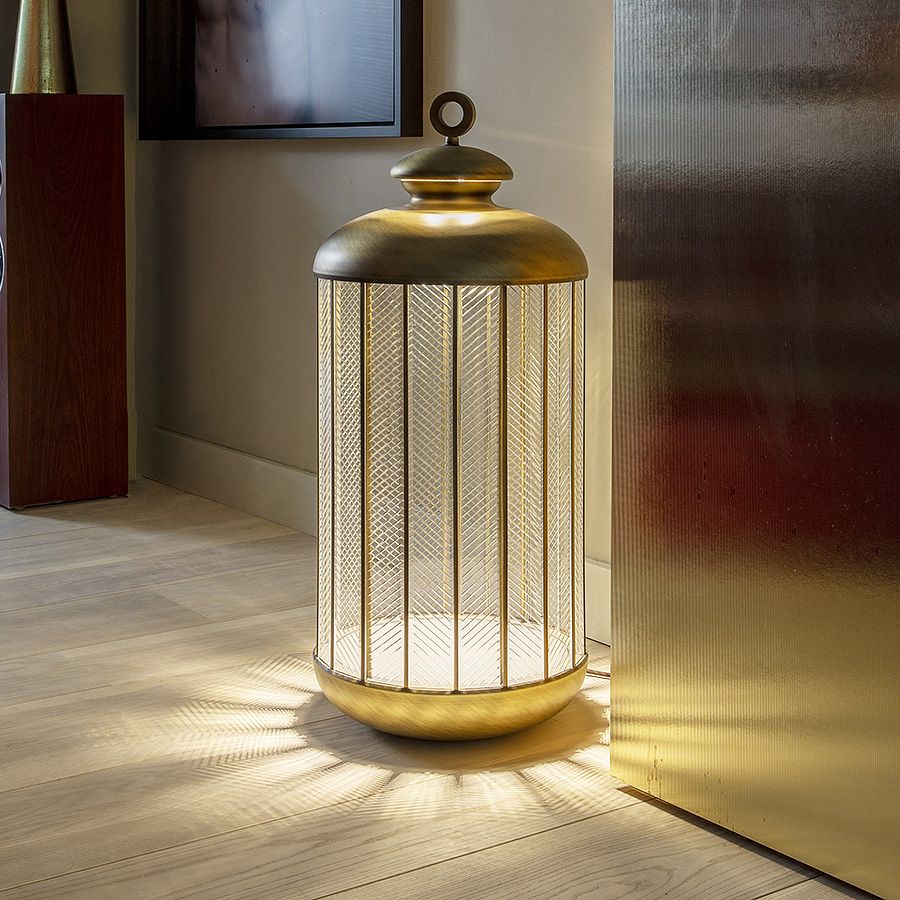 The Fatamorgana lamp (Italamp by Edward van Vliet)
It's easy to be wowed by the work of Edward van Vliet. The Dutch designer, who conceived furniture pieces, lighting and textile designs for acknowledged design brands such as Moroso, Moooi, Leolux and Italamp, has the rare ability to craft unique spatial experiences that at once feel super exciting and remarkably cosy. Pleasant places where intimacy meets abundance.
Tapping from his direct surroundings and travels, Van Vliet uses his own life as an inspirational tool to draw each space its distinctive interior canvas. To enter the finalised work is like exploring new territories.

Van Vliet recently finished the renovation of his private premises, a generous residence at street level made possible by joining two neighbouring ground floor apartments.
We are meeting the designer there, in his newly furbished home in Amsterdam. Somewhere back in the clouds of our consciousness, we do know that we are at a stone's throw from Museumplein and its infamous art institutions. But closing the front door, we are instantly warped into a different universe. A story-filled patchwork of contrasting colours and dynamic patterns, cultural references, indigenous artefacts and man-sized art works — all pieced together with a kind of confident nonchalance that makes one feel instantly at home.
Your home is a vivid reflection your life and work.
It's a living diary that fuses the various chapters of my life. My work starts and ends with emotions. In that respect, the wooden floor symbolises a new beginning.
In contrary to what one would associate with a myriad of contrasting elements, the entire home oozes a holistic, balanced atmosphere. 'That's in part thanks to the light-coloured wooden floor which unites the various spaces,' says Van Vliet. 'The floor also enhances the perception of certain interior details such as the marble tiles in the bathroom.'
Edward, you say that the floor symbolises a new beginning. Can you elaborate a bit on that?
A while ago, I experienced a desire for change in my life. I decided to close our shop in Amsterdam and move my entire household furniture to Barcelona, to open our new 400m2 showroom to present there 'the Rooms of Origins'.

Although not exactly an easy period, starting all-over from scratch allowed me to reconsider everything — from my life to my skills and knowledge, and business. With the Rooms of Origins, I mainly focus on the bigger picture. Meaning total concept development: develop furniture for design brands and entire interior concepts for mainly hotels and resorts. Looking back, it has been a liberating and inspiring process.

Returning to an empty home became an opportunity, to start anew. In fact, all started to fall in place with the floor, which created a neutral, supporting surface for the eclectic selection of furniture (mainly from our previous store) and pieces of art. Most of what you see here is either designed or sourced by me. This is my world so to speak. My Amsterdam home is turned into our Amsterdam office where we also receive clients.
Traveling has always been a big inspiration. Did your style change over the years?
My signature style has always been rather vivid and outspoken. It still is, although I'd say my work has become more sophisticated and in balance; you could say it's more mature now. Take the interior of my home. Although a lot is happening, the space oozes a certain degree of self-controlled serenity.
If we may quote you: 'Nature is the greatest designer in the world and the most expansive source of inspiration at the same time. Rich and colourful. Brimming with life and detail.'
Nature still is my biggest source of inspiration. I always try to connect the inside with the outdoors. Even in my downtown apartment, the garden plays an essential part. Symmetry, geometry and other elements found in nature come back in my designs and patterns, for instance with the carpet design Geometrica Flowers. Or wallpaper I designed with the appearance of silk bamboo. I also like using real materials. This particular Ash flooring caught my attention for its natural grain pattern.
While you love to mix and match patterns, for your own home you chose a calming wide plank Ash wood flooring. Why did this specifically pure and refined floor most appeal to you?
I love Ash for its clear and pure appearance, and the grain avoids it becoming too uniform. The lightness of the Ash makes the house look brighter and more spacious. The element of playfulness is embodied in the variable widths of the wide planks.

I've been quite involved in the whole process from choosing the right patina to on-site installation. I've even handpicked which planks should go where. In the end, crafting a sound and sustainable interior is for a large part about attention to detail.