From Paris, with love
Who doesn't fall in love with Paris? The city's rich history, grand style and impressive architecture never ceased to inspire us. The opening of Ebony and Co Paris in 2016 has been a long-term wish come true. And we couldn't have been luckier with its superb location at Rue de Saint-Honoré, next to the Tuileries Garden.
As usual, all eyes are (first) on the flooring. Here in Paris, it resulted in a daring yet elegant combination of two similar hardwood parquet patterns where we contrasted the original oak floor with a contemporary looking hardwood floor. What both have in common is the chevron pattern, also known as Point de Hongrie, after a kind of embroidery stich that came into style during the 16th century. At the helm of Ebony and Co Paris is Dillon Garris, who is also artistic director of the company. We seized the opportunity to ask him a few questions on the superb venue.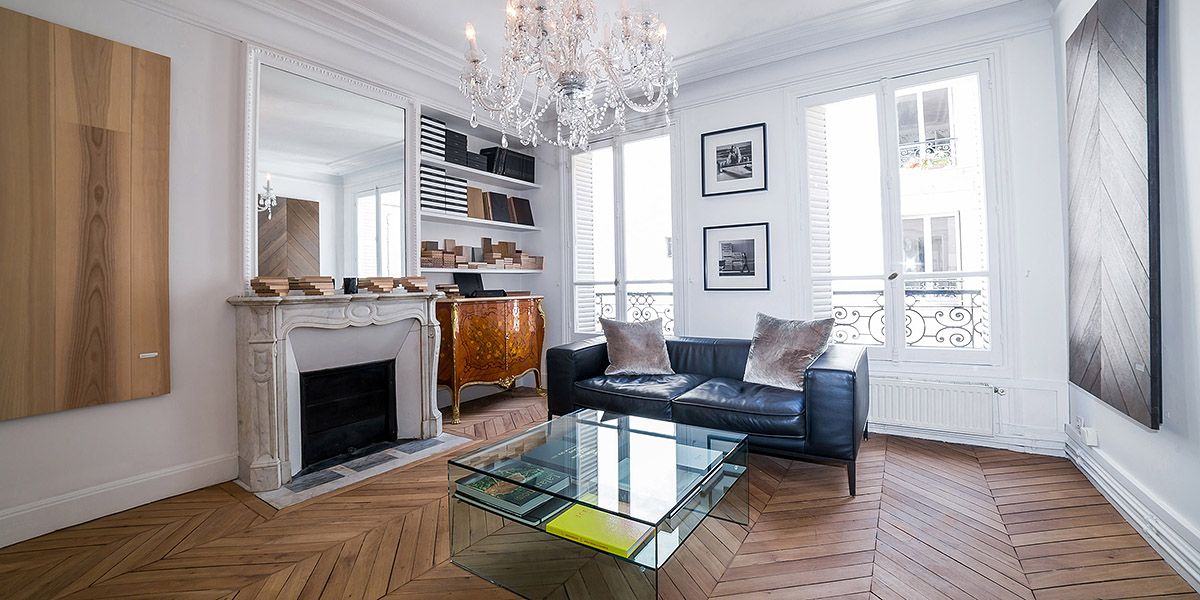 18th Century elegance with original 200 year old chevron floor.
What's special about the building?
[Garris] It's an elegant mansion dating back to the 18th century! The listed building is typical to the Hausseman period; a cozy courtyard filled with statues and green. And of course the location in the heart of Paris is quite unique.
Could you keep some of the original details?
Yes, we restored the original chevron oak floor, which was originally installed in the apartment over 200 years ago. It now makes a beautiful marriage with our contemporary chevron metallic Ash floor, coated with Nickel-Silver. The furniture in blackened barnwood is the cherry on the cake. Contrast in harmony! I also love the interior's colour locale with its white marble fireplaces and typical Parisian crown moldings on the ceilings.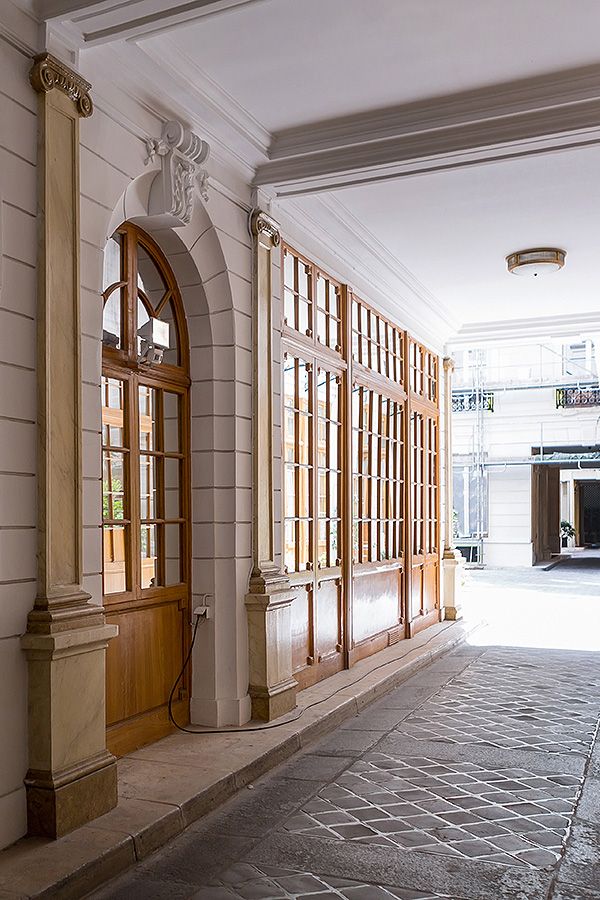 Typical Hausseman period building.
Nickel-silver Chevron Metallic Ash floor, with Antique Barnwood Charcoal wall paneling.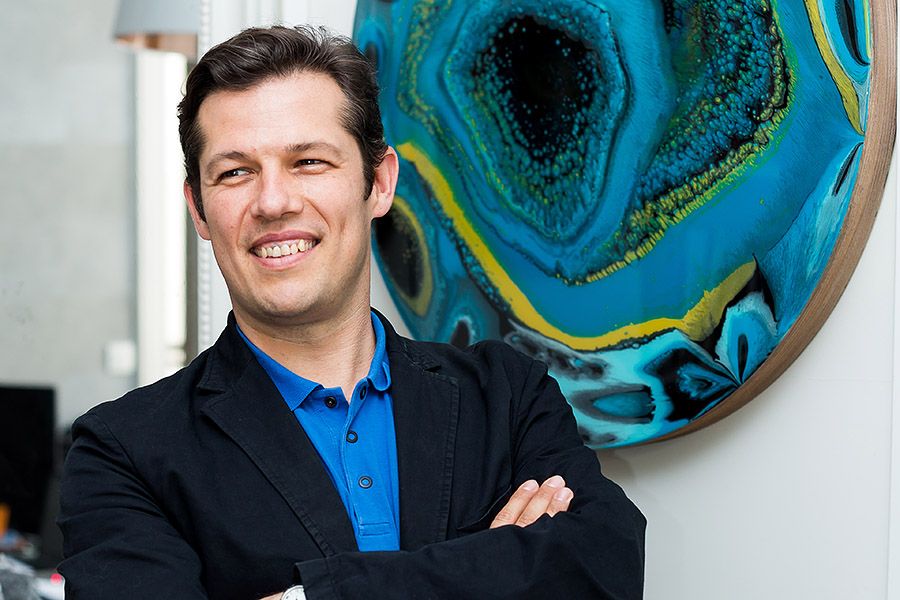 Dillon Garris
Renée Le Bloas-Julienne
Do you only serve the local market?
Not really, Ebony and Co Paris acts like a springboard for many international projects with architecture and design firms.
Ebony and Co often engages with art. How is that here?
In Paris, we've now invited the French artist Renée Le Bloas-Julienne to show her work, who creates colourful panels made from plastic, resin, wood. We see art as a natural extension of our brand and love to support artists with providing them a compelling space to connect to likeminded people.
I heard rumors on a monthly wine tasting event, too.
We are working on that. Keep an eye on our social media!
Any tips on the direct area?
Situated in the 1st arrondissement, our Paris' branch is a five-minute walk from the infamous Place Vendôme boasting the French capital's high-fashion nucleus with the best possible shops. Also, have a stroll to the
Élysée Palace
, and take in art at
Musée du Louvre
. When time is on your side, I recommend visiting
Fondation Louis Vuitton.
It's a bit of a journey, but worth the extra mile – if only for its stunning architecture.